Liquid Gold Travel Duo
Or 4 payments of
$19.98
or
At home or on the go, never be without our one-step exfoliating treatment for glowing skin with t... Read more
This kit includes
Liquid Gold with 5% Glycolic Acid
Size: 100ml
Liquid Gold with 5% Glycolic Acid 30ml
Size: 30ml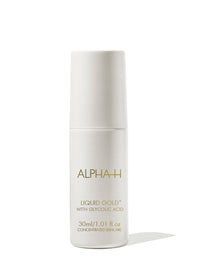 At home or on the go, never be without our one-step exfoliating treatment for glowing skin with this 100ml and 30ml duo.
Customise your skincare routine with this comprehensive suite of antioxidant support and active ingredients. Alpha-H's Vitamin Serum Kit – with newly improved formulas.
Helps with: Fine lines and wrinkles, dullness​​, uneven skin tone and texture.
Made for: All skin types wanting to maintain healthy-looking skin.
At night after cleansing, saturate a cotton pad and sweep over the face, neck and décolletage, avoiding the eyes and delicate areas. Alternatively, dispense the product into palms and press directly over the skin.
Leave Liquid Gold to work on its own - layering with other products will buffer the efficacy of the treatment. Follow with a face oil once skin is touch dry if preferred.
Every other night, stick to your favourite hydrating and nourishing products. New to active skincare or never exfoliated before?
Start slow and incorporate Liquid Gold into your skincare routine 1-2 nights a week before building up to 3 nights a week.
The treatment that has everyone talking...
@chey_maya
"It's only been a couple weeks using Liquid Gold and I'm loving how much brighter my skin is looking."
@taraleighrose
"Liquid Gold living up to the name, hands down my fave Glycolic Acid."
@laurasylv
"IT'S SIMPLY THE BEST. Liquid Gold is by far the best glycolic acid product on the market!"
@glowithjules
"This is my go to treatment for nights I am too tired to do a full masking + skincare routine before bed."
Real People, Clinical Results
Known as a 'miracle in a bottle', Liquid Gold has been a cult favourite for years among dermal therapists, skin experts, beauty editors and everyday people!
But the proof is in the performance. From an 8-week independent clinical review:
88% of people saw an improvement skin tone and luminosity
88% of people saw an improvement skin texture
93% of people also saw an improvement in skin elasticity use
Fantastic product. Use in the evening and wake to a fresh glow.
Skincare staple!! I never let myself run out of Liquid Gold. It makes my skin look fresh and glowy, and feeling extra soft.
I started using this product 20 years ago and it will remain a staple in my beauty routine.
I love this product, yes it gives you a tingly feeling and it's a good feeling. My skin feels and looks so much better for using this product.
Good To Know

WHERE DOES IT GO IN MY ROUTINE?
After: Cleanser
Before: Face oil

HOW MUCH DO I NEED?
1ml per use - equivalent to ⅓ teaspoon or a saturated cotton pad.
 
HOW OFTEN SHOULD I USE IT?
3 times a week on alternate evenings.
 
PRO TIPS
If you're new to exfoliation or have sensitive skin, start slowly with once a week and build up to 3 times a week over the course of a month
It's normal to feel a tingling sensation on the skin after application - it'll linger for a few minutes before dissipating, revealing a fresher, firmer complexion and natural glow
If your skin is slightly sensitive or you prefer a more comfortable feel, apply a face oil on top instead of a moisturiser (oil-based products won't reduce the efficacy of Liquid Gold's low pH formula)
Always apply and reapply an adequate amount of your chosen broad-spectrum sunscreen every day, but especially after using Liquid Gold at night
Frequently Asked Questions
For best results we advise applying Liquid Gold to freshly cleansed skin three alternate evenings a week and leaving to work on the skin unadulterated overnight, to avoid reducing the products potent exfoliating capacity by following with other products.

Yes! Depending on many factors including skin type and how accustomed your skin is to active ingredients, some skins may feel a tingle upon application. This is normal and should subside after a few moments. It is also normal for some skins not to feel anything at all, this does not mean the product isn't working, each skin is individual.

If you are using an over the counter cosmetic grade Retinol you can continue to use this when you introduce Liquid Gold. As both Glycolic Acid and Retinol encourage skin turnover we recommend cycling these active ingredients with less active, non exfoliating products in your routine. One evening Liquid Gold followed by an application of Retinol (Vitamin A) the next then 1-2 evenings off where you apply a non active moisturiser or face oil works perfectly. Please note: if you are using a doctor prescribed prescription Retinoid however, we do not recommend teaming this with other exfoliants including Liquid Gold.
Liquid Gold may be cycled into your routine in conjunction with other exfoliating acids. Frequency of use and the types of additional exfoliants will depend on individual skin type and tolerance. If you are unsure what the best regime for you is, please reach out to us at hello@alpha-h.com and one of our team will be happy to assist you.

If you are new to chemical exfoliants or your skin is a little on the sensitive side we would suggest starting slowly with Liquid Gold. Dampening your cotton pad before application can also help to dilute the exfoliating process slightly until your skin becomes accustomed to the product. Alternatively, we would recommend starting with an exfoliator specifically formulated with sensitive skin in mind such as Generation Glow.

Liquid Gold is pregnancy and breastfeeding safe.
Total 5 star reviews: 30
Total 4 star reviews: 1
Total 3 star reviews: 0
Total 2 star reviews: 0
Total 1 star reviews: 0
100%
would recommend this product
Reviewing

Liquid Gold Travel Duo

Skin Concerns

Sensitivity,

Pigmentation,

Large Pores

Love the travel size one!

I keep coming back to Liquid Gold as my toner! Your skin feels and looks great next morning. I love purchasing the travel duo, so I do not have to take my usual large bottle on my trip. I highly recommend it!

Reviewing

Liquid Gold Travel Duo

Skin Concerns

Blemishes & Breakouts,

Redness & Inflammation,

Uneven Texture,

Pigmentation,

Fine Lines & Wrinkles

Miracle in a bottle!

I honestly cannot get enough of liquid gold. This is the best glycolic formulation I have ever used. My skin has been the best it has been in years. It is amazing at reducing the appearance of fine lines and wrinkles, improving skin appearance and texture and has helped with my uneven skin tone from acne scarring. I can't get enough of this!

Reviewing

Liquid Gold Travel Duo

Perfect duo

Not my first purchase, this is now a staple in my skincare routine. Mini is perfect for travelling.

Reviewing

Liquid Gold Travel Duo

Fabulous stuff!

Skin is definitely smoother, brighter with improved tone. I have sensitive skin and am prone to redness so was a bit concerned about reacting. However, no need to worry - the tingle just meant that my skin was loving the potion and I woke up glowing. My new must-have :)

Reviewing

Liquid Gold Travel Duo

always fabulous

convenient for travel, same great ingredients! love liquid gold, have done for years!
Reviews Loaded
Reviews Added