Dry Skin AM & PM Routine
Or 4 payments of
$66.23
or
Nourish and protect your skin barrier with this expert-approved routine designed for dry complexi... Read more
This kit includes
Balancing Cleanser
Size: 185ml
Vitamin E Serum with 1% Ceramide Complex
Size: 25ml
Golden Haze Face Oil
Size: 25ml
Essential Hydration Cream
Size: 50ml
Daily Essential Moisturiser SPF 50+
Size: 50ml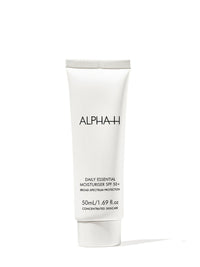 Nourish and protect your skin barrier with this expert-approved routine designed for dry complexions.
Helps with: Dryness and Dehydration
Made for: Dry Skin Types
Each morning, thoroughly cleanse with Balancing Cleanser before applying Vitamin E Serum, Essential Hydration Cream and Daily Essential Moisturiser SPF 50+.
At night, remove makeup and cleanse using Balancing Cleanser. Apply Vitamin E Serum over the face, neck and décolletage. Finish by massaging Golden Haze Face Oil into skin for a nourished, plump complexion.
Balancing Cleanser
A gentle, multi-tasking cleanser for all skin types designed to remove makeup, dirt and pollution, while supporting the skin's natural pH balance.
Vitamin E Serum with 1% Ceramide Complex
A restorative first aid serum for all skin types formulated to support your skin's natural barrier function while calming and rehydrating dry, damaged and sensitive skin.
Golden Haze Face Oil
A fast-absorbing and luxurious face oil suitable for all skin types and designed to nourish, plump and strengthen the skin's barrier function, while boosting and maintaining hydration.
Essential Hydration Cream
A rich moisturiser for all skin types designed to deeply hydrate, soothe and nourish the complexion while reducing the appearance of redness.
Daily Essential Moisturiser SPF 50+
A hydrating broad-spectrum sunscreen for all skin types designed to protect against harmful UVA/UVB rays, whilst supporting your barrier function and providing a dewy finish.