Strengthening Skincare Set
Mature Skin AM & PM Essentials
Or 4 payments of
$66.98
or
Brighten, resurface, support and protect mature skin with this simple yet effective routine kit. Read more
This kit includes
Protection Plus Daily Moisturiser SPF 50+
Size: 50ml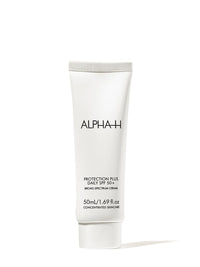 Balancing Cleanser
Size: 185ml
Vitamin C Serum with 10% Ethyl Ascorbic Acid
Size: 25ml
Essential Hydration Cream
Size: 50ml
Liquid Gold with 5% Glycolic Acid
Size: 100ml
Brighten, resurface, support and protect mature skin with this simple yet effective routine kit.
Helps with: Fine lines and wrinkles, uneven skin tone, uneven texture, dryness and dehydration
Made for: All skin types with mature skin, who want a simple skincare routine for managing signs of ageing
Each morning, thoroughly cleanse skin with Balancing Cleanser before applying Vitamin C Serum and Protection Plus Daily Moisturiser SPF 50+.
At night, remove makeup and cleanse skin using Balancing Cleanser. Exfoliate up to 3 nights a week using Liquid Gold.
Massage Essential Hydration Cream over the face, neck and décolletage every other night for soft, supple skin.
Balancing Cleanser
A gentle, multi-tasking cleanser for all skin types designed to remove makeup, dirt and pollution, while supporting the skin's natural pH balance.
Vitamin C Serum with 10% Ethyl Ascorbic Acid
A hydrating daily serum packed with gentle, but powerful new generation Vitamin C to boost brightness.
Protection Plus Daily Moisturiser SPF 50+
Naturally tinted with a mattifying finish suitable for most skin tones, this moisturising broad spectrum sunscreen is designed to protect against UVA/UVB rays and free radical damage.
Liquid Gold Exfoliating Treatment with 5% Glycolic Acid
The cult-favourite AHA exfoliating treatment clinically proven to increase luminosity, improve elasticity and even tone and texture. Simply swipe, sleep and glow.
Essential Hydration Cream
A rich moisturiser for all skin types designed to deeply hydrate, soothe and nourish the complexion while reducing the appearance of redness.